ODL Studio is free, open-source software that lets you create rich, detailed sales or delivery territory maps.
Territory mapping features
Create territory maps for any type of geographic building block where shapefiles are available - for example zipcode boundaries, postcode districts or areas.

Open Door Logistics provides free UK postcode boundaries allowing you to map territories at UK postcode area, district or sector level.

Specify custom colours for:

Each territory or let ODL Studio automatically assign them.
Each geographic building block - allowing building blocks to be coloured by a user-defined mix of their own colour and their assigned territory's colour.

Add extra information to your map by placing user-defined labels on geographic building blocks. These could show:

Sales or workload statistics.
The building block's postcode or zipcode.
The territory name.
... or any combination of the above.

Export territory maps to pdf, together with text-based details and key statistics for the territory as a whole or its individual component geographic building blocks. Map images for each territory within the pdf report can be configured to:

Highlight the current territory and grey-out surrounding ones.
Show only the current territory.
Show all territories, but zoomed-in on the current one.

Export territories map image to a variety of image formats at a user-defined resolution using the camera snapshot function.
Combine a territory map with a map of your key customers.
Example territory map report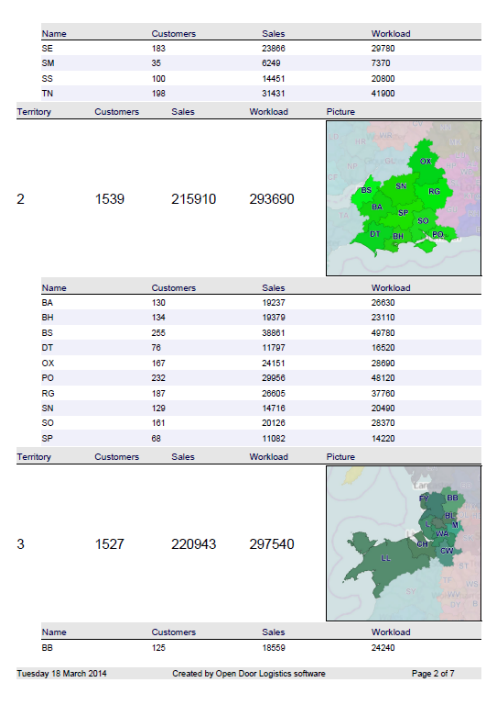 Custom territory mapping with ODL Studio - exported to a PDF report.